Google Patent on Smartphone Concept
2019 is the era of folding screen phones. Google also doesn't want to miss following this trend, but with a very interesting design, it is far different compared to devices that have appeared to the public.
Folding screen phones in general, for example, the Galaxy Fold and Mate X, have the appearance of a cellphone whose screen can be bent once. Well, Google's futuristic device will actually be like a book.
Based on a patent that has been submitted by Google to the World Intellectual Property Office (WIPO) as quoted by Lets Go Digital, Friday (6/28/2019), it shows that there are many folds on the Google cellphone. The device has five pages.
Also Read: Xiaomi Beart Trimmer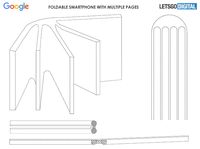 Google Patent issued earlier
It was stated that patented technology was made based on patents issued earlier this year. At that time, a thin module layer was implemented in such a way that it could be used like a book.
The folding screen phone screen is an OLED type that is flexible and makes it easy for users to move pages like a book. While in the last section of the page will be designed as a place for batteries, RAM, ROM, and other components that support the function of the device.
The pages on future Google devices consist of screen panels that can be folded by the user. But Google is not a manufacturer of screens, their folding screen phones could be worked on by HTC or LG which contributed to the first generation Google Pixel. Whereas Pixel 3 is a collaboration with Foxconn.
It is not clear whether Google is seriously mass produce these products in the future.